As a child, Delaware native A. Mosiej ["mo-jhay"] devoted a great deal of time to drawing. She cannot recall when she first began to identify as an artist – she always knew it was her destiny. Early on, several mentors recognized her talent and encouraged her to pursue it. She honed her craft and developed her unique style taking courses including illustration and graphic design during four years as a student at Philadelphia's Hussian School of Art.
After graduating, she apprenticed for a time with the late Soterios Anton "Buddy" Pappas, an artist who went on to pursue fame and fortune in Las Vegas as a wrestler and later as a portrait and poster artist. Mosiej then focused on building an independent, freelance business and began to acquire her own clientele. She soon established a reputation for talented sign painting, logo and ad creation, and t-shirt design. Her long list of varied clients (below) illustrates the breadth of her successful career.
Mosiej's most recent work reflects her distinctive light-hearted style, which adorns a delightful collection of engaging note cards. As always, her illustrations pop with vibrant color and captivate with quirky whimsy. She shares her Sussex County studio with her clan of rescue pets, well-loved dogs, cats, and parrot who often find their way onto her vivid creations.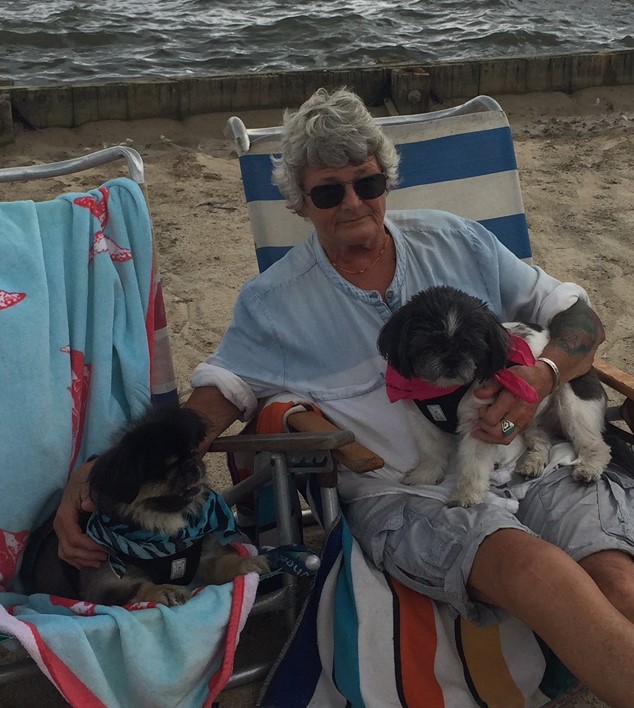 A. Mosiej's clients have included:
DuPont Playhouse Theater, Wilmington DE
National Wildlife Federation/Ranger Rick Magazine, Washington DC
News Journal, Wilmington DE
DuPont Country Club, Wilmington DE
Delaware Art Museum, Wilmington DE
The Grand Opera House, Wilmington DE
Out & About Magazine, Wilmington DE
Delaware Theatre Company, Wilmington DE
It Figures Studio, Newport DE
Touchstone Pictures, Dead Poets Society motion picture, filmed at various Delaware locations
CAMP RehobothLetters, Rehoboth Beach DE
World Championship Punkin' Chunkin' Association, Sussex County DE
Jazz Festival, Rehoboth Beach DE
Purple Parrot, Rehoboth Beach DE
Iguana Grill, Rehoboth Beach DE
Atlantic Liquors, Rehoboth Beach DE
Schell Brothers, Rehoboth Beach DE
Dave McCarthy Associates, Rehoboth Beach DE
J & J Power Washing, Dagsboro DE
Pool & Spas Unlimited, Milford DE
Shorts Marine, Millsboro DE
The Pontoon Express, Harbeson DE
Rudy Marine, Inc., Dagsboro DE
A+ Tree Service, Georgetown DE
AAA Tree Work, Millsboro DE
Superior Electrical Services, Millsboro DE
Long Neck Plumbing & Heating, Millsboro DE
Mann and Sons, Inc. Realtor, Rehoboth Beach DE
John Wanamaker, Philadelphia PA
Frank Robino, Rehoboth DE
Visual Arts Studio, Wilmington DE
Tropic Interiors, Wilmington DE
Christina River Club, Wilmington DE
Bernie's Tavern, Wilmington DE
Congo Funeral Home, Wilmington DE
Burton Builders, Lewes DE
Lewes BPW, Lewes DE
First State Crane, Milford DE
Surfside Limousines, Lewes DE
Pine Ridge Barns, Millsboro DE
Ace Cycle Repairs, Millsboro DE
All Aboard Grooming, Dagsboro DE
Diamond State 4x4, Millsboro DE
Grotto Pizza, Rehoboth DE
Aqua Grill, Rehoboth DE
Starboard, Dewey Beach DE
Lazy Susan's, Lewes DE
La Dolce Vita, Millsboro DE
Lazy L B&B, Rehoboth DE
Homestead B&B, Rehoboth DE
Waterdogs Screen Printing, Harbeson DE